FAQ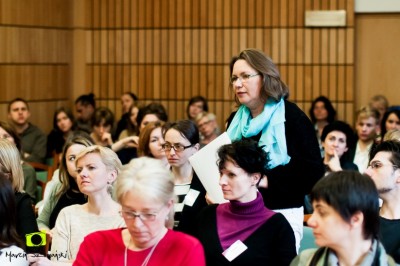 What is IVTOM?
What is Mix?
Why should I become a member?
What is the IVTOM Mentor Program?
Who are the IVTOM Mentor Teachers?
How is IVTOM different?
Types of Membership
Types of Certification
Membership Costs
What are Membership Requirements?
How Does a Member on the Accredited Track become an Accredited Ivtom Teacher?
What is the Process to of Applying?
Can I change my Login Password?
More questions?
---
What is IVTOM?
IVTOM stands for The International Voice Teachers of Mix. It is a teacher's organization that helps educate and provide association and interaction with other like-minded teachers who strive to teach "Mix".
What is Mix?
Mix is a vocal technique that teaches singers how to move smoothly through the bridges or "breaks" in the voice by getting the body in balance, vocalizing with centered vowels and keeping the larynx in a relaxed position. Mix can be used in all styles of singing and creates a natural, unaffected sound. See video demonstrations of mix singing.
Why should I become a member of IVTOM?
As a member of IVTOM you will have access to our Members Only website where there are Articles and Videos by Master Vocal Instructors, Teacher Trainers and Medical Professionals. Members receive Weekly Teaching Tips and Monthly Training Videos from the Ivtom Mentor Teachers and members of the Ivtom Advisory Board. Members receive quarterly newsletters containing teaching and business ideas and listing IVTOM activities and opportunities.
Members also have access to the IVTOM Mentor Program, educational activities, workshops and forums sponsored by IVTOM, including monthly online streams and chats with Master Teachers and Medical Professionals. The students of IVTOM members are able to participate in adjudication and critique sessions, as well as apply for scholarships sponsored by IVTOM. Members also receive discounts with businesses that offer products helpful to their teaching studios. (For a complete list of benefits, see the "Benefits" page—it's under "Membership" in the top menu.)
What is the IVTOM Mentor Program?
Both Accredited and IVTOM members on the Accredited Track have the advantage of being able to request a Mentor to assist with their professional development.  Mentors are highly skilled Mix teachers who are successful in their studio businesses and who are experienced teacher trainers.
Who are the IVTOM Mentor Teachers?
We consider the IVTOM Mentor Teachers to be the best of the best. Not only are they knowledgeable, they are caring and desire to help other teachers grow and develop. They work tirelessly to spread knowledge about the voice and good vocal production to anyone in the world who is searching for it.
Mentors are highly experienced teachers; most have over 20 years of experience.  They share the common goal of teaching good singing and they embrace Mix technique as the best possible approach.  Each Mentor has multiple strengths and specialities: some are songwriters who play multiple instruments; some are repertoire coaches and acting teachers; some conduct chorales; others direct musicals; others are highly trained classical singers; some work with damaged voices and others enjoy teaching children.  Many are published authors; others are recording artists.
They all share four qualities: they are superb teachers; and they are committed to excellence, to their own continuing education, and to the education of other teachers.
How is IVTOM different than other Teacher Organizations?
IVTOM is a non-profit organization where all Mix teachers can come together for discussion, education, and association to become better educated, help and encourage each other, and gain vocal truth from experienced teachers, medical professionals and voice scientists. We recognize that teaching voice is an "art" as well as a science and differences in style, approach and personality are encouraged. IVTOM strives for increased understanding and education and encourages discussion through online workshops, conferences, chats, and communication.
Most traditional vocal techniques teach "behind the soft palate" or "back singing" and focus mostly on classical repertoire. Women are taught to sing predominantly in their head voice and men in their chest. IVTOM is an association of voice teachers that teach Mix, teaching the full range of the voice and developing the ability to sing through the bridges, not avoiding them or "sneaking" around them. IVTOM welcomes and encourages all vocal styles.
IVTOM is dynamic and adapts to the needs of its members and asks for and responds to their input. The leadership of IVTOM feels that as long as we are striving to teach "Mix" that we have more in common than we disagree on and by sharing and coming together we will become better and stronger teachers and continue to learn and come closer to all truth regarding the voice and how it functions.
The goals of IVTOM are to help train and accredit voice teachers in Mix singing, help voice teachers become better educated and connect to others for support and encouragement, and to bring together Voice Teachers, Medical Voice Professionals and Voice Scientists to learn from and help one another. The core purpose of IVTOM is to bring voice professionals together and focus on the things we share in common and build on these things to promote great singing and good vocal health throughout the world.
Are there different types of membership available?
IVTOM offers four types of membership:
1.  Members on the Accredited Track are learning to demonstrate Mix in their own voices and to teach Mix effectively.  Anyone interested in learning about the voice and how to teach singing can be accepted.  Experienced teachers who do not yet know how to teach Mix may also enter the program.  Their education path will be different than an inexperienced teacher's and is likely to be shorter.  All members on the Accredited track are required to be actively working toward Ivtom Accreditation.
2.  Accredited Teachers have proven their ability to demonstrate and teach Mix singing. Accredited Teachers are listed on the "Find a Teacher" page of Ivtom's website, on FindaMixTeacher.com, and other websites. Ivtom Accredited Teachers also receive a "Certificate of Accreditation" each year of Ivtom membership.
3.   Professional Associate Members are usually medical professionals or voice scientists who desire to benefit from the education provided by Ivtom and also create relationships with skilled voice teachers throughout the world.
4.  Ivtom Subscribers - Anyone interested in learning about the voice and benefiting from the most up-to-date information that Ivtom offers can be an Ivtom Subscriber.  The cost is still very reasonable for all of the information available; however, the cost to be a subscriber and not be progressing to be an Ivtom Accredited teacher is slightly higher.
Is IVTOM a Teacher Certification Program?
IVTOM is a Teacher EDUCATION program.  Any teacher interested in gaining education and understanding about the voice and how to teach Mix can be accepted to the Ivtom Accredited track. Members on the Accredited Track can advance to Accredited Member status once he/she has demonstrated the ability to fully teach and demonstrate Mix. IVTOM Mentor teachers assist those on the Accredited Track in developing the ability to demonstrate and teach Mix. All members sign a commitment to strive to teach Mix as accurately and purely as possible and live by the IVTOM Code of Ethics.
How much does membership cost?
There is a $25 application fee for Accredited Membership. The yearly fee is $85. There is no application fee for Accredited Track Membership and two months are free. After the free trial period, the yearly fee is $65. The price for Medical Professionals is also $65 per year. The cost to be an Ivtom Subscriber is $125 per year. (All costs in U.S. dollars)
What are the IVTOM fees used for?
IVTOM is a non-profit organization. There are no salaried employees. All members of the IVTOM Board and Advisory committee serve on a volunteer basis. They serve because they want to promote good singing and good vocal education and health to as many teachers and singers as possible. All fees are used to cover operating costs such as internet charges, and any excess money is used to sponsor scholarships and help promote Conferences and other Educational programs. IVTOM financial records are open to any members at any time.
What are the requirements of Accredited Membership?
Applicants for Accredited IVTOM Membership must be at least 20 years of age, have been teaching voice for at least 2 years, and are currently teaching a minimum of 5 students per week. They must show the ability to mix by demonstrating either though live performance or recorded audio or video the ability to sing or vocalize through their bridges without breaking, flipping, or changing tone quality. They must also demonstrate their ability to teach Mix by either teaching a lesson observed by two IVTOM Mentor teachers or by submitting a video of themselves teaching a mix lesson of 25-30 minutes in length. They must also complete a written Evaluation demonstrating their knowledge of Vocal Function, Physiology and Acoustics relating to the voice.
Most teachers join IVTOM as Accredited Track Members and advance to Accredited  status within 2 years; however, experienced teachers are able to join as Accredited Members if they can demonstrate the necessary requirements. Applicants must complete a membership application and agree to the Technical Aspects of Mix and the IVTOM Code of Ethics. (For a complete listing of requirements, read the "Membership Requirements" page—it's under "Membership" in the top menu.)
What are the requirements for Accredited Track Membership?
The Accredited Track membership is for people wanting to learn about the voice, study and train and work to become Ivtom Accredited Teachers of Mix Singing. Applicants must be at least 18 years of age. They must agree to the "Technical Aspects of Mix and Code of Ethics" and complete an online application. Ivtom members on the Accredited Track are required to be actively working toward becoming an Ivtom Accredited Teacher.
How Does a Member on the Accredited Track become an Accredited Ivtom Teacher?
The first focus is on developing his or her own voice, since the first requirement is the ability to demonstrate Mix.  This is accomplished by studying with an Ivtom Accredited teacher on a regular basis, usually weekly or bi-weekly. During this period, the Accredited Track member is expected to study the training material on the Ivtom website and attend Ivtom teacher trainings, workshops and conferences.
An Accredited Track member who has little or no teaching experience will enter the Student Teacher Program.  After completing the Student Teacher Program, the member may apply to work with a Mentor. Not all members on the Accredited Track need to enter the Student Teacher Program.  A member who has been teaching for a minimum of six months with at least five students per week is eligible to apply for acceptance to work with a Mentor.  
The Accredited Track member will work with 2 different Mentors consecutively who will prepare them to be able to pass the requirements of Accreditation, which are; to demonstrate Mix in his/her own voice, teach effective Mix voice lessons, and complete the Written Evaluation containing essential information regarding vocal function,  physiology and acoustics.
What is the Process of becoming a member?
Step 1: Go to Apply for Membership and complete the online application. Read and agree to the "Technical Aspects of Mix and IVTOM Ethics Code".
Step 2: Your application will be reviewed and you will receive an email notifying you if your application was approved. If you have been approved, you will be instructed to return to the "Apply for Membership" page and pay whichever fee is required by clicking on one of the Paypal buttons.
Step 3: Once your fee has been received, you will be asked to create a unique username on the IVTOM registration form. A password, which will enable you to login to the "Members Only" section of the website, will be emailed to you.
Can I change my password once I become a member?
Yes. You will be sent a password once your membership has been approved which will enable you to login to the "Members Only" section and fill out a Member Profile. Once you are logged on, you can go to the profile page and change your password.
What if I have additional questions?
Please use our contact form to ask any additional questions.
---